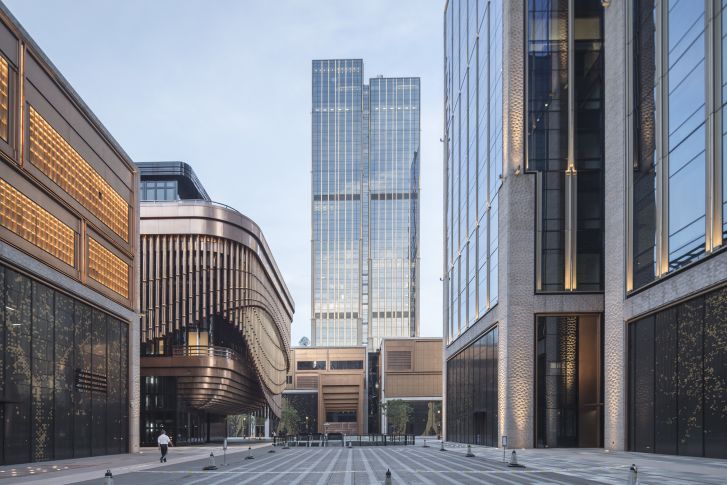 It's getting better and better, Shanghai's profile is more balanced than ever. We mentionned earlier in September the Fosoun Foundation building designed by Heatherwick Studio. A lot is happening on the riverside's waterfront, next to the so called Shanghai's New Financial District or Shanghai Bund Financial Center. In fact the municipality plans to invest a lot on the riverside of both Puxi and Pudong to turn it into a beautiful lifestyle and relaxing area for both family, couples, loners and doggies.

Have a look above for a greater view of the Shanghai's waterfront that boards the New Financial Center.

Long Museum's riverside is definitely worth a stroll. First you can enjoy the beautiful architecture of the museum, and finally have a nice promenade along oldies locals flying kites and young skateboarders. #OldMeetsNew [Quite literally]
Also, Hassell Studio is currently working on a riverside planning for the Northern Bund area. The Hongkou district is one of the most historical area of the city, and is currently being revitalised into a wide lifestyle-hub. Its not totally finished, a lot of constructions are on-going but this project is very exciting, soon the new riverside will have connected a massive area walkable from North to South entirely.
Here comes the good news:
1) Its happening fast! Very fast, actually you already have a very nice walk/jogging/cycling way from the Bund area all the way down to the south. Don't hesitate to go somewhere you haven't been for 2 months. Seriously? Can you believe this 2 months. Yes, that's how fast things go here.
2) Fast means new, there is a lot to discover about this area that you may not even know or have ever heard of. If you walk south long enough you may reach the 'Cool Docks', a new 'hype' area filled with nice hotels restaurants and bars.
3) You'll lose fat! Not much, but enough to feel better about the burger you had last night.
4) Slow down. Relax, breathe in and breathe out. This is the perfect moment to escape and achieve peace of mind.
The government is investing and gathering top designers from all around the world to innovate and create a beautiful riverside with cute green living spaces (Oh yes GREEN-LIVING-SPACES. We don't talk enough about these. Between metal and glass there's always room for grass.)
Ultimately the birth (or rebirth) of the city's riverside is just showing how Shanghai is becoming more and more a city of lifestyle rather than just a luxurious epic old-meets-new mega-city. Shanghai's riverside is the perfect counterbalance to Lujiazui's glass and steel giants.
Now take a breath [wear a mask] and have a nice walk at the riverside.
P.S. If you want to know more about Shanghai's Urban Planning, you should check SUSAS (Shanghai Urban Space Art Season (SUSAS)).